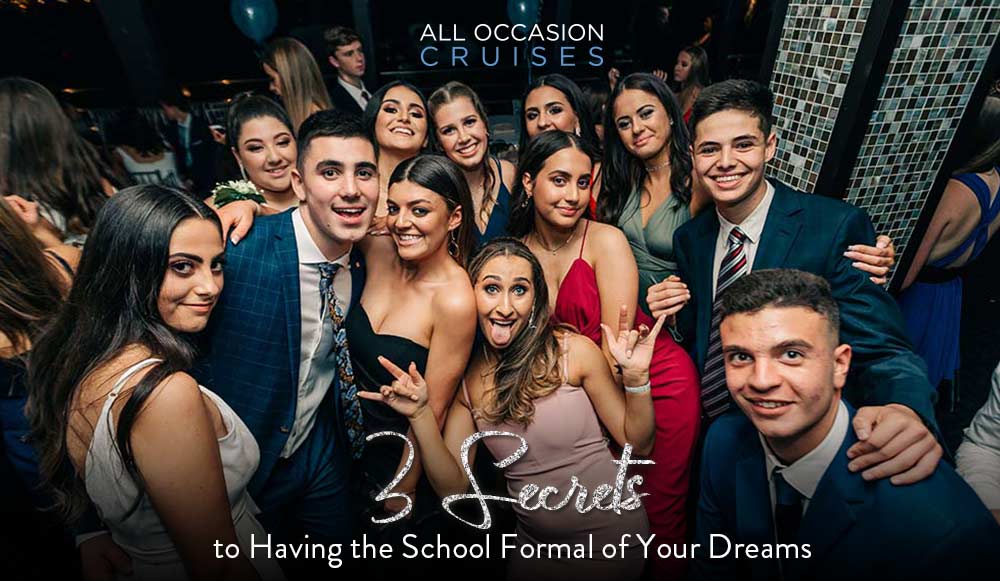 If there's one thing everyone remembers about school, it's the formal. It's the one night when you can get all dressed up, have fun with your friends and dance the night away. Well, the best school formals don't plan themselves, so you need to get started if you want it to be the best one ever.
To help you plan, we're giving you some insider events planning secrets that will turn any average dance to the school formal you and your friends have always dreamt of.
Rally Your Troops
The school formal is no small feat. You need to pick a theme, scour for a venue, sample menus, plan the interior, book a DJ… We could go on, but the bottom line is you need help with the heavy lifting. Some schools have a committee set up for this, but if there isn't one, you need around 5 to 10 volunteers. Pick a person in charge, preferably someone who has planned school events before, and assign roles.
You can also take the smarter route. All Occasion Cruises has the best event planners. They've professionally planned and implemented many school formals, and each one was more amazing than the last. Let them handle the grunt work, and you can focus on what's truly important – getting ready for the dance.
Get Creative with Planning
Planning is half the event won, so take your time to figure out what you want your school formal to look, sound and feel like. Hold a poll, ask people in your year, consult teachers and do some research online. Also, make sure that you're taking the budget and the school's event guidelines into consideration.
Knowing these will help you pick a theme, the date, a venue, what the interior of the venue should look like, the DJ or band you'll hire and even the refreshments. Play around and be open to creative options. You never know – maybe the wildest, quirkiest most unlikely suggestion is the right one for you school dance.
Secure the "Musts"
Once you've set the date, theme, budget and general details, focus on booking the big-ticket items like the venue, entertainment and food and drinks. Getting these perfect can be tricky, so imagine how amazing it would be if you can just tick all three in one go.
Well, you can with All Occasion Cruises. Set your venue on the deck or on the Bella Vista's famous dance floor with floor to ceiling glass windows all around you. Imagine how incredible the photos will be when you have the Harbour Bridge and the Sydney skyline as your background.
You can, then, pick your favorites from our delicious buffet or pizza menu. We can even hook you up with a professional DJ to spin for the night and pimp the dance floor out with LED lights to complement the music as you dance yourselves out.
With these 3 main things taken care of, all you need to deal with are the minor details which, with a great team, is a piece of cake. Now, you can focus on what really matters. Getting yourself ready for the best night of your life.