For over 25 years AO Cruises has been running all sorts of events and occasions for international celebrities, global and local sports stars, couples tying the knot, small businesses, charities and large corporations. 
And one thing that all our party cruises have in common is an incredible choice of catering packages for groups of all sizes.
Having a Delicious Meal Served On Board is the Best Way to Enjoy Your Boat Party Cruises
Our executive chefs can prepare the menus a number of different ways as each boat has its own kitchen facilities capable of creating masterpieces on grills, in ovens and on the BBQ as well as desserts in all shapes, colours and sizes.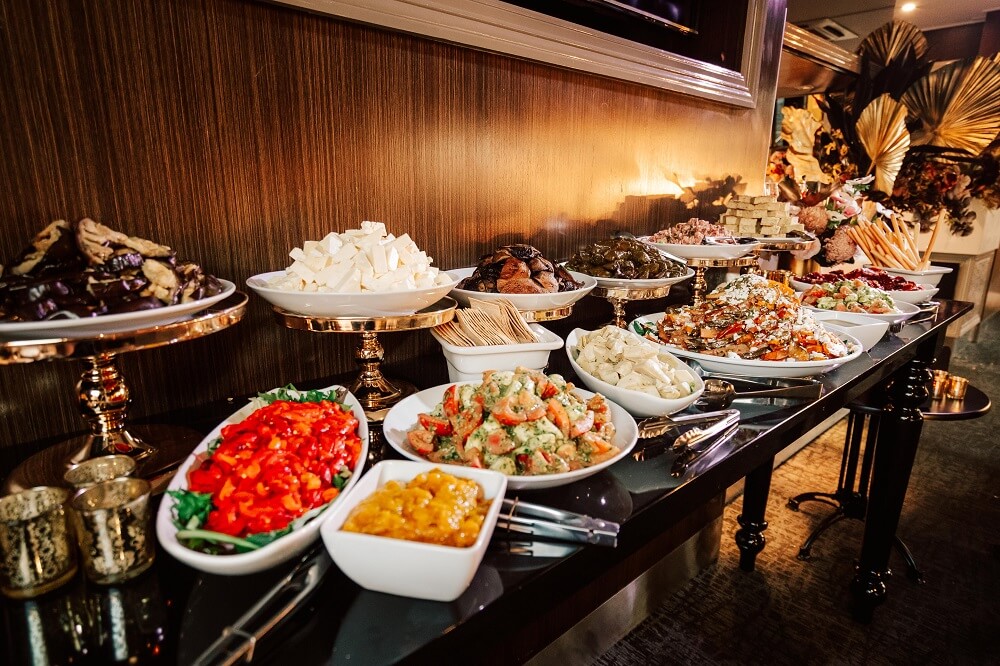 Some of our specialities are as follows:
From the BBQ, you can enjoy scotch fillet steaks served with black peppercorn sauce, chicken marinated in olive oil and tarragon or rosemary and garlic lamb cutlets, to name a few.
Or if you have a larger group and a buffet is more to your taste we can prepare, chicken fillet marinated with lemon, roast garlic, oregano, and olive oil or enjoy garlic and rosemary lamb kebabs with mint yogurt. If you feel like having something with a little more spice try our Portuguese chicken marinated in fresh chilli, lime and parsley.
Of course cruising on The Harbour often means our guests select from our special seafood dishes including our signature steamed New Zealand ½ shelf mussels served with a tomato, lemon and coriander salsa or the simplicity of platters of Sydney rock oyster and fresh local tiger prawns accompanied with seafood aioli or our own Triage of Salmon with whole baked salmon, smoked salmon and salmon caviar topped with caper berries
Salads are also a speciality, especially on a warm summer's day. Perhaps we can tempt you with a fresh king prawn, crab and avocado seafood salad or a green salad tossed with wild rice, toasted soya glazed nuts and seeds finished with our incredible herbed vinaigrette. Or stick with a classic like our Caprese salad, traditional Greek salad or roquette, pear and parmesan salad with lemon and oregano dressing. 
Max Your Thrill With Refreshing Beverage On Your Sydney Party Cruise
And for sweet tooths we have a selection of desserts to die for including homemade butterscotch cake served with white chocolate ganache, vanilla bean cream brûlée with blueberry compote or a chocolate ganache' tart with cinnamon ice cream.
For cocktail and standing occasions we can specially prepare a range of contemporary canapés, pleasurable platters and deserts.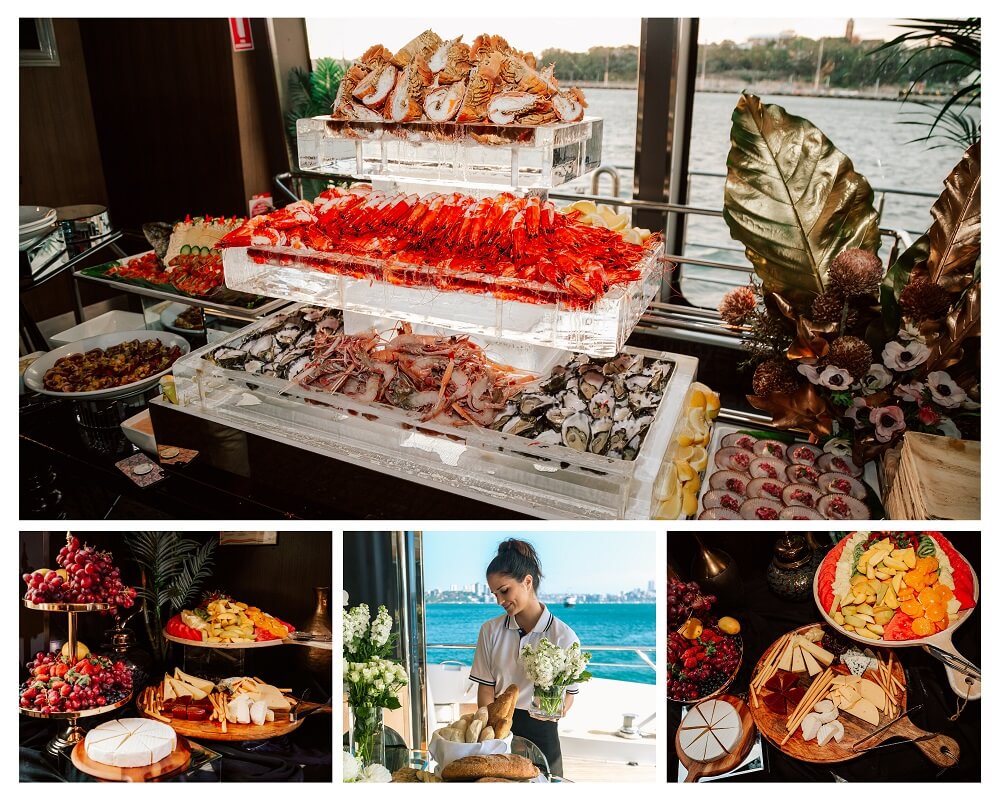 This is just a small sample of the incredible cuisine we can prepare; we are also happy for you to take control of the menu and create your own culinary masterpiece for your special occasion.
Our beverage packages are generally organised to taste or for larger groups on a per head cost and can include everything from French champagne, hand-shaken cocktails, local and imported beers and a selection of wonderful wines.
To plan your next special event, contact the team at AO Cruises on 02 9809 5499 or fill in our enquiry form at aocruises.com.au and we can work with you to plan the most memorable boat party imaginable.