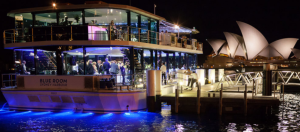 We're excited to announce that an impressive new vessel has joined our fleet! With its striking design and stunning event space, the Blue Room is the must-hire floating venue on the harbour.
Rosie Elias, director of All Occasion Cruises, says she's thrilled for the Blue Room to join the family. "When the opportunity presented itself to acquire Sydney Harbour's iconic 'Blue Room', I instantly felt a connection to the vessel and its potential," she says. "With the unique open rooftop bar, the 2.8m high glass wrap around windows and the Sky Deck – Blue Room will allow the All Occasion Cruises team to truly showcase our event and culinary expertise."
The Blue Room is a versatile event space, due to its expansive entertaining areas, large rooftop bar, cocktail lounge and exterior wrap-around deck on the main level. It's perfect for luxury corporate functions, special birthday parties and, of course, fairy tale weddings that guests will remember for years to come. "I am so confident Blue Room will allow myself and my team to take eventing experiences on Sydney Harbour to a whole new level," says Rosie.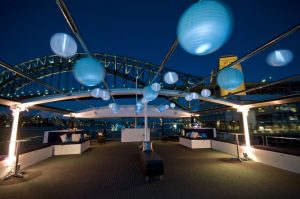 Foodies will love the catering options on board, too. The Blue Room has a full commercial kitchen and the option for formal dining, buffet menus or a cocktail-style event. Along with our delicious menus, we have great beverage packages available to get the party started.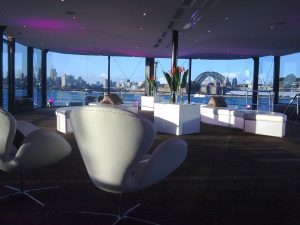 After a challenging year for the hospitality industry, the arrival of the Blue Room signals the start of an exciting new phase for All Occasion Cruises. "Considering the impact 2020 had on our business and many others like us, Blue Room offers my team and I an incredible opportunity to extend ourselves, amplify our offering and bring a whole new event experience to the people of Sydney," says Rosie. "We are so grateful to add Blue Room to the All Occasion Cruises family."
The Blue Room is open for bookings now! Click here for more information.